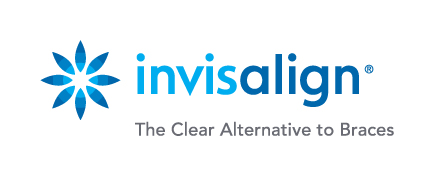 Montgomery Greene Dental
are a 
preferred
Invisalign
Provider. 
Invisalign is a system of clear aligners designed by a specially trained Invisalign dentist to straighten teeth. Because the aligners are custom made to your teeth, they are not bulky and are nearly invisible. Invisalign braces eliminate most of the issues associated with traditional metal braces.  Contact Invisalign Preferred Dentist in Jersey City Area, to further discuss if Invisalign is right for you.   Contact Montgomery Greene Dental
WHAT DO INVISALIGN BRACES DO?
For years, adults have been hoping for a way to have beautiful straight smiles, without having to wear unsightly metal braces. Many methods were tried, but not until the recent emergence of Invisalign invisible braces had there been much progress. Now having a beautiful smile, without metal braces, is a reality for thousands of adults and even teens.
Invisalign braces work wonderfully for those that never had the opportunity to have their teeth aligned as a child, or perhaps had braces as they were growing up and now are noticing an increasing pattern of their teeth starting to shift or crowd. For those of you who would love to have a straight healthy smile again, but don't want the hassle of traditional metal braces, Invisalign invisible braces may be the answer for you.
COMPARISON OF INVISALIGN INVISIBLE BRACES TO METAL BRACES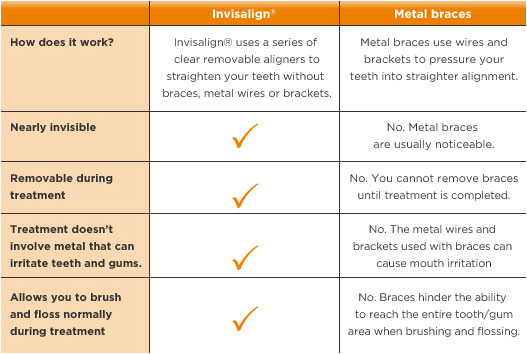 HOW DOES INVISALIGN WORK?
Invisalign works by creating a series of custom made clear, comfortable and nearly invisible aligners, that patients wear usually for 2 weeks at a time and then switch to the next set. The number of aligners in the series will be determined by the amount of movement needed to create your ideal smile. The more movement needed for your situation, the more aligners will be created for you.
Most of the patients we have treated average 9-12 months of wearing the Invisalign braces, but we have also had a high number of people finish in the 6-9 month range. This is amazing, considering most traditional braces take 18-24 months. Normally, you can expect to return to the office about once every 6 weeks for a progress check, minor detailing and to receive your next sets of aligners. This visit usually takes less than 15 minutes, so you can see that even for the busiest people, Invisalign won't take that much time out of your often hectic schedule.
Invisalign invisible braces often work FASTER than traditional braces because they have the ability to accurately move individual teeth in a computer enhanced sequence. Having the Invisalign Braces System working for you, is like having the clues for a jigsaw puzzle before you start. You can align the pieces quicker, and get the beautiful straight smile you have been hoping for, in usually 30-40% LESS TIME than traditional braces. Invisalign braces can also be used in combination with cosmetic dentistry, to place and space teeth more ideally to reduce amount of tooth needed to be filed in order to achieve better results with porcelain veneers or lumineers or dental porcelain crowns. Invisalign can also be used to place teeth in more ideal position to place Dental Implants .
Frequently Asked Questions about INVISALIGN ® Treatment
Q. Are the Invisalign braces (removable aligners) really invisible?
A. Yes, even when very close, no one will know you are wearing anything on your teeth – they are truly invisible braces
Q. How often do I change to a new Invisalign aligner?
A. About every two weeks, you change to a new Invisalign aligner, but your office visits will be only about every 6 to 12 weeks.
Q. How long does the Invisalign braces system take to move the teeth?
A. Depending on difficulty, most Invisalign treatment will take between 6 and 18 months, but some Invisalign treatments could take less or more time.
Q. Do Invisalign braces cost more than regular braces?
A. Invisalign treatment does cost about 10-15% more, but with our payment plans, treatment is still very affordable. Some short simple cases cost less to do with Invisalign the conventional braces.
Q. These Invisalign invisible braces (aligners) seem to be plastic, why should they cost more?
A. All of the Invisalign aligners are made with in a laboratory using the latest computer CAD CAM design. This does add specific lab costs to treatment that are not required with standard braces. (Lab costs are included in your total fee.)
Q. Is the Invisalign treatment just for adults?
A. A patient must have all of their adult teeth and must be responsible enough to keep their invisible Invisalign braces in place at all times except eating.
Q. Can Invisalign treat all of the problems that braces can?
A. Although it cannot treat every orthodontic situation, many common issues such as crooked teeth or crowded teeth, spaces between teeth, and certain overbite types can be successfully corrected with Invisalign.
Q. If I have insurance, will it pay for Invisalign braces?
A. Yes, dental insurance plans accept the Invisalign treatment.
Q. How do I find out if I can receive treatment with the invisible Invisalign system, and what it would cost?
A. Ask for a free exam at either of our office click here to set up an appointment
To learn more about Montgomery Greene Dental's services Click Here 
Montgomery Greene Dental
39 Montgomery Street
Jersey City, NJ 07302
Phone: 201-204-0737
"We're Jersey City's Top Dentists"